INDUCTION AND THERMAL VECTOR HEATING
E-Wenco is a technology development centre that has designed and patented two innovative thermal technologies called E-llum Induction and E-llum Thermalvector that achieve energy savings and process and product efficiencies.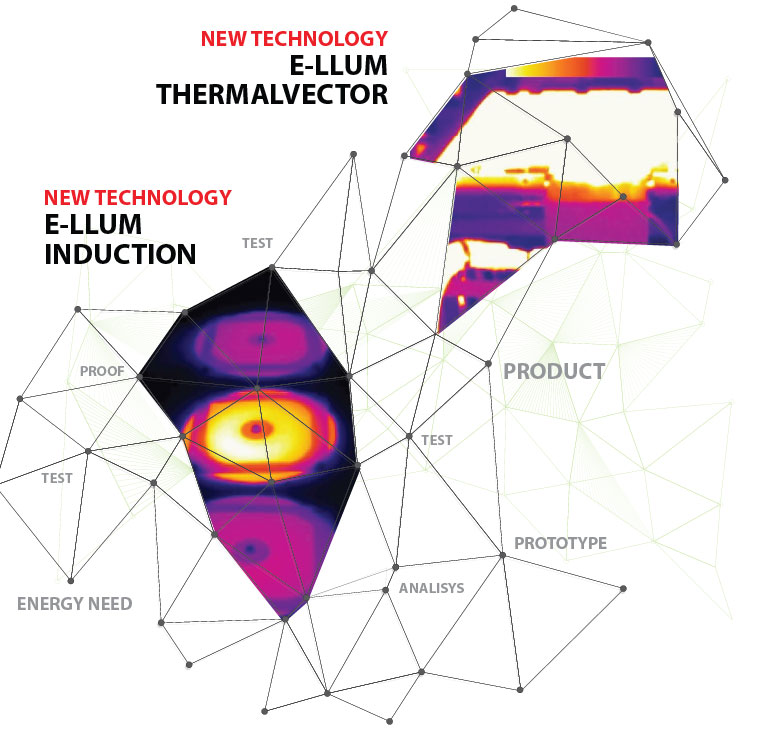 01. TOTAL CUSTOMISATION OF POWER DENSITY
In its two forms, solid and liquid, E-llum Technology makes it possible to choose the power density that the customer's wishes and process energy requirements demand.
02. GREATEST CONTROL AND THERMAL UNIFORMITY
Unique temperature control and thermal energy distribution required in different shapes, flat or three-dimensional.
03. SAFETY AND DURABILITY
Maximum safety. Performance guaranteed over time, without loss of efficiency.
Our services and products
01. WE STUDY, DESIGN AND SIMULATE
We study the energy process and design the best solution based on our research results. We then simulate the impact of the technology on the process before proceeding with the implementation phase.
We produce proof of principle/concepts, pre-prototypes, prototypes and demos with the aim of field testing the features and building successful business case.
We produce limited batch products, fully customised according to customer specifications. We have manufactured products ready to be integrated into customers' industrial systems.